Contents
TDP's Campaign
In January 2022, Transparency International downgraded Turkey's rating on its Corruption Perceptions Index to 38 out of 100. The announcement closely followed Turkey's October 2021 addition to the Financial Action Task Force's "Gray List" of countries who are unable to prevent financial crime. These decisions reflect a growing awareness of systemic problems in the Turkish financial and economic sector.
TDP's Banking Sector Campaign has focused on this unstable investment climate, highlighting Turkish banks with ties to corrupt government bodies and a record of sanctions evasion and money laundering. As part of its campaign, TDP has called on the following American and European Banks to sever their ties with corrupt Turkish financial institutions:
Deutsche Bank and Ziraat Bank
BBVA and Garanti Bank
Citibank and Isbank
Wells Fargo and Isbank
BNY Mellon and Aktifbank
Executive Summary
Under President Erdogan, money laundering, sanctions evasion, and support for extremism and corrupt governments has gone largely unchecked, leaving Turkish banks vulnerable to international financial crime. Companies doing business with Turkey risk entanglement with corrupt Turkish financial institutions that engage in illicit international finance, such as sanctions busting schemes with Iran. Turkey has a weak legal framework in place to properly investigate, convict, or freeze the assets of money launderers and financial criminals.
The most high-profile criminal case involves the Turkish state-owned Halkbank, which was implicated in a global scheme to smuggle at least $20 billion of restricted funds out of Iran from 2010 to 2015. According to testimony from Azerbaijani businessman and money launderer Reza Zarrab, who was indicted and convicted in a federal US court, at least 4% of the scheme's profits went to bribe government officials, amounting to tens of millions of dollars in bribes to members of the Justice and Development Party (AKP).
The Halkbank scheme is representative of a larger problem within the Turkish financial sector—namely, an opaque regulatory environment that often incentivizes financial crime. Not only were President Erdoğan and his government directly implicated and involved in the Halkbank scheme, they also rewarded its architect, Mehmet Hakan Atilla, upon his return from prison. Berat Albayrak, Erdoğan's son-in-law as well as Finance and Treasury Minister at the time, appointed Atilla CEO of the Istanbul stock exchange.
The Turkey Wealth Fund (TWF) plays a particularly reckless role in the Turkish financial sector, frequently acting as a vehicle for nepotism and state-sanctioned financial corruption. As the largest shareholder of three of Turkey's largest banks, Halkbank, Ziraat Bank, and Vakif Bank, it is the country's most influential financial body. Described by Turkish economists and opposition as a "parallel treasury" and a "wealthless sovereign wealth fund," the TWF's governing body is headed by President Erdoğan and is populated by family members and close allies.
Despite the advice of numerous economic advisors and experts, Erdogan refuses to establish an independent central bank. Indeed, he has successively dismissed several Central Bank governors who refused to bow to his demands for lower interest rates. Not surprisingly, as of July 2022, inflation in Turkey reached an official record high of nearly 80%–with experts estimating the real rate to be almost double. Rather than raise rates, Erdogan plans to inject $4.9 billion into state-owned banks in an attempt to offset the lira's record drop, which has eroded lenders' ability to provide adequate financing.
Banking Risk Index
Halkbank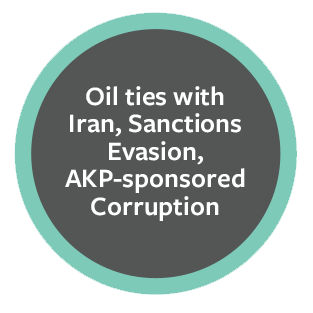 Oil ties with Iran
Turkish lender Halkbank was exposed in August 2011 for facilitating $100 million payments between the National Iranian Oil Company and Indian oil refiners. In 2012, Halkbank and Indian state-run Hindustan Petroleum agreed to significantly cut oil exports to Iran. Then Secretary of State Hillary Clinton exempted Turkey from U.S. financial sanctions for 180 days as a result of this agreement, but Halkbank was still found responsible for routing dollar payments to Tehran on India's behalf. Payments from India to Iran via Halkbank for oil imports resumed until 2013 when the Halkbank payment channel closed, and India owed Iran about $6.5 billion. In May 2016, Indian oil refiners cleared its outstanding debt to Iran through Turkey's Halkbank to the National Iranian Oil Co.
Sanctions Evasion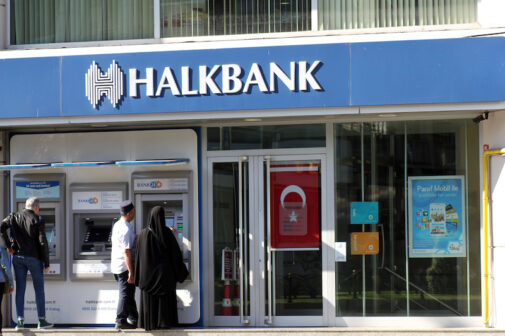 The government of Turkey implicated itself at the highest levels in what The Atlantic called "the biggest sanctions-evasion scheme in recent history." The U.S. government found that Halkbank was involved from 2012-2015 in a mass money laundering scheme that helped Iran evade strict U.S. sanctions by smuggling at least $20 billion in oil revenues from 2010 to 2015 alone. In 2018, deputy head of Halkbank Mehmet Hakan Atilla was convicted of evasion of U.S. sanctions. The United States Department of Justice is now criminally prosecuting Halkbank for money-laundering and sanctions busting. On May 5, 2021, Atilla was denied export privileges by the U.S. Department of Commerce, signaling that the United States will not grant impunity for sanctions busting or money laundering.
Connections to Erdogan's Government
The Turkish government owns 75% of Halkbank's shares, and the U.S. Department of Justice has directly implicated President Erdoğan in the Halkbank scheme, highlighting the government's complicity in its indictment:
"In addition to benefiting the Government of Iran by evading restrictions on the use of oil proceeds, the gold scheme would also benefit the Government of Turkey: By converting the otherwise-restricted Iranian oil proceeds at HALKBANK, the defendant, into gold and exporting that gold, the scheme would artificially inflate Turkey's export statistics, making its economy appear stronger than it in fact was."

U.S. Department of Justice
Halkbank attempted to have the indictment dismissed on the basis of the Foreign Sovereign Immunities Act, but Judge Richard Berman rejected the claim in 2020 on the basis that the law does not grant immunity in criminal proceedings. In January 2022, the case was put on hold while Halkbank appealed this ruling to the Supreme Court. As of February 2022, a U.S. congressional report indicated that Halkbank and the Government of Turkey are still providing Iran with hard currency in gold in exchange for oil and other commodities.
Aktif Bank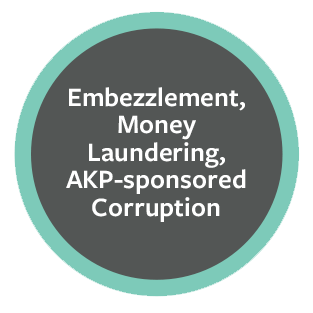 Aktif Bank, the largest privately-owned investment bank in Turkey, has been implicated in a host of illicit activities, including ties with the Taliban, embezzling and money-laundering, sanctions-evasion, and other corrupt practices. The FinCEN Files indicate that Aktif Bank "processed suspicious transactions worth some $91.6 million (€77.3 million) through its partners in the United States" between June 2013 and July 2014. Around half of these suspicious transfers relate to customers with links to Afghanistan. Owned by "gang of five" member and one of Erdogan's closest associates, Ahmet Çalık, Aktif Bank has made headlines for its aid in the Halkbank Scheme, as well as other instances of sanctions evasion.
Suspicious activity in Afghanistan
Aktif Bank's activities have been flagged in Afghanistan, with 561 suspicious transfers worth $35.3 million from Afghan accounts. No information about the companies that received the money can be found, and Deutsche Welle reports that both BNY Mellon and Bank of America subsequently marked the transactions as "suspicious" and reported them to the Financial Crimes Enforcement Network of the U.S. Treasury ("FinCen").
One of Aktif Bank's Afghan customers is the New Kabul Bank, an institution that was at the center of a billion-dollar corruption scandal with Watan Oil and Gas group in 2010. The U.S. government's investigation into the Watan Oil and Gas group revealed it had paid the Taliban several million dollars in return for protecting their convoys. Watan Oil and Gas was co-owned by CNPC, – a Chinese energy firm subcontractor – and Afghan businessman Rateb Popal, who was in a New York prison for ten years for smuggling heroin.
BNY Mellon has already reported Aktif Bank's transfers in Afghanistan, although it remains a correspondent bank. Bank of America no longer has a correspondent account with Aktif Bank after filing a Suspicious Activity report to the US Department of Treasury regarding its transactions on behalf of Watan Oil and Gas.
Embezzlement and Money Laundering
After the leak of the FinCEN files in September 2020, the bank was accused of carrying out money laundering on a grand scale for a customer network that included the scandal-ridden German financial service provider Wirecard Bank. Between May and July 2014, Wirecard Bank made 12 'suspicious transactions' worth more than €93,000 ($110,000) through its Aktif Bank account.
Sanctions Evasion
Aktif Bank has been implicated in facilitating the illicit business operations of Iranian-Turkish gold dealer, Reza Zarrab. In 2007, Zarrab opened an account at Aktif Bank with the help of the former Minister for Europe Egemen Bağış, in an attempt to evade U.S. sanctions on Iran. Zarrab ultimately pled guilty to money laundering and bank fraud, testifying that he engaged in a scheme to withdraw 5-10 million USD of Iranian money out of Aktif Bank.
Connections to Erdogan's Government
Notably, Aktif Bank is part of Calik Holding, which has close ties to the Turkish government. During the period in which some these suspicious transfers took place, Calik Holding's CEO was Berat Albayrak, President Erdogan's son-in-law. Albayrak then became Turkey's Finance Minister before resigning in November 2020.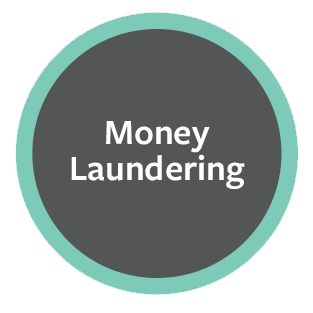 Money Laundering with Russia
In 2019, Turkey's second largest private bank, Garanti Bank was implicated in a money laundering scheme that funneled billions of euros from Russia into the Netherlands. According to the Dutch Organized Crime and Corruption Reporting Project (OCCRP), Troika Dialog – Russia's largest bank – operated the scheme that sent billions to the Netherlands through 70 offshore companies with accounts in Lithuania. 1.3 million transactions from 238,00 companies were used to funnel billions of dollars out of Russia. Coined as the Troika Laundromat by OCCRP, the money laundering operation "allowed Russian oligarchs and politicians to secretly acquire shares in state-owned companies, to buy real estate both in Russia and abroad, to purchase luxury yachts, to hire music superstars for private parties, to pay medical bills, and much more."
According to OCCRP and the Lithuanian news site 15min.lt, some of the money was also transferred via the Amsterdam Trade Bank.
Isbank
Connections to Erdogan's Government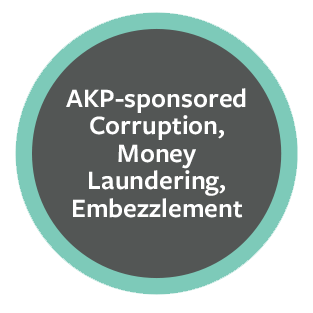 While historically a privately-run bank, Isbank has been the target of Turkish state appropriation under President Recep Erdoğan since at least 2012. In November 2020, and after years of threats, the 28% stake held by the opposition Republican People's party ("CHP") was finally transferred into a single account held by the Government Treasury. The CHP holding was stipulated under the bank's founding charter when it was established in 1924 by the Turkish Republic's founder, Kemal Ataturk.
By 2016, Turkish President Recep Erdoğan had explicitly signaled his intention to change Isbank's share ownership structure from the main opposition party's (CHP) 28% stake to the Treasury. This was followed in late 2018 by Erdoğan's announcement to initiate legislative proceedings with a view to confiscation: a move intended to deflect Erdoğan's corrupt meddling in Turkey's banking sector. In 2019, Erdoğan again decreed that Isbank shares would be allocated to the Treasury and taken from his main opposition, the CHP. Erdoğan's explicitly political act has compromised the independence and integrity of Isbank.
Money Laundering and Embezzlement
In addition to Erdoğan's meddling, the Anonymous 'hacktivist' group alleged that the Isbank CEO Ertugrull Senem has been involved in corruption schemes and illegal money transfers with Berak Albayrak.
Sanctions Evasion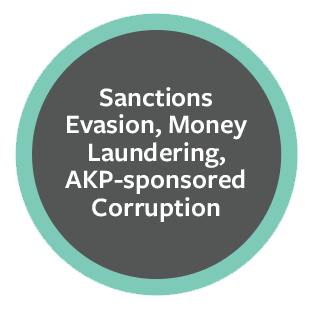 Ziraat Bank—one of Turkey's two largest banks—has been heavily implicated in facilitating the notorious multi-year trade of billions of dollars-worth of gold from Turkey to Iran. At the center of the fraud, which began in 2010 and reached a crescendo in 2013-2014, were Turkey's Halkbank and the Iranian-Turkish gold dealer, Reza Zarrab. Charged with attempting to evade U.S. sanctions on Iran, Zarrab ultimately pled guilty to "defrauding the United States, money laundering, and bank fraud." As the New York Times reported in 2017, "Mr. Zarrab testified that it was Zafer Caglayan, Turkey's economy minister at the time, who said [Turkish President] Mr. [Recep Tayyip] Erdogan had directed the two banks, Ziraat Bank and VakifBank, to participate in the scheme." At Erdoğan's directive, Zarrab turned to Ziraat Bank once the "amount of money illegally flowing through Turkey's Halkbank became too much to handle…"
Money Laundering and Embezzlement
In July 2021, Reuters reported that Germany's Federal Financial Supervisory Authority ("BaFin") was "in talks with Ziraat Bank's German unit over concerns about some loan transactions and the bank's balance sheet…" noting "ratios which don't match in the bank's balance sheet." On April 19, 2022, Reuters shared that BaFin appointed a representative after Ziraat Bank's Frankfurt unit did not comply with the German Money Laundering Act. Ziraat Bank declined to comment on both Reuters' reports.
In August 2021, former interior minister Abdülkadir Aksu was receiving "double salaries" and tenders from the AKP. Aksu's family also owns the ASC Law Firm that is currently handling the enforcement proceedings against Ziraat and Vakıfbank. According to WikiLeaks, Aksu has maintained years-long close yet discreet ties with Erdogan.
Sanctions Evasion and Connections to Erdogan's Government
In January 2021, evidence emerged that Turkey's Sovereign Wealth Fund—state owned and headed by Erdoğan—used Ziraat Bank to bury a nonperforming loan that had been used to purchase Turkcell, Turkey's largest mobile phone operator. According to a report by Foundation for the Defense of Democracies, the bank provided a $1.6 billion nonperforming loan to an offshore company:
[t]hrough a chain of questionable deals involving multiple conflicts of interest, the country's sovereign wealth fund, headed by President Recep Tayyip Erdoğan, used Ziraat Bank, which the fund fully owns, to disappear a nonperforming loan issued to an offshore entity to purchase control of Turkey's largest mobile phone operator, Turkcell. (FDD)
The opposition Republican People's Party ("CHP") has continued to press on these issues surrounding Ziraat Bank's illicit offshore dealings with Turkcell and Turkey's Sovereign Wealth Fund. Several years earlier, in 2014, the U.S. Federal Reserve had already launched a probe into the Bank's New York branch on suspicion of sanctions evasion.